Used & New Pallet Trucks from
The Surplus Warehouse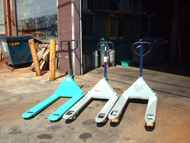 More easily and quickly move pallets from one place to another with industrial pallet trucks, also known as pallet jacks, from Philadelphia's largest used and new material handling dealer, The Surplus Warehouse. Not only will pallet trucks make transportation of pallets more efficient, it will ease loading and unloading while ensuring safe operations. Visit our facility to take a look at the area's widest selection of industrial pallet trucks where you are sure to find the one that meets all your warehouse needs. Also, if you need additional pallet racks or replacement pallet racks, visit to view our many styles of pallet rack.
We Have the Pallet Truck for Your
Warehouse Application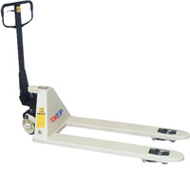 Generally used to transport heavy pallets in industries like chemical and pharmaceutical factories, warehouses, food storage industries, retail stores, and others, pallet jacks need to be strong and functional. The Surplus Warehouse buys, sells, and trades all of the types of pallet trucks listed on the right from industry-leading pallet truck brands. We feature standard pallet jacks with pumps rated at 5,000 to 5,500 lb. capacity and specialty trucks with varying capacities.
To suit all kinds of warehouse environments and terrains, The Surplus Warehouse can supply pallet trucks made from zinc and stainless steel. Others have been chrome coated and galvanized to resist highly moist atmospheres evident in most pharmaceutical and chemical factories. Additionally, we have pallet trucks that are suitable for clean room, laboratory, wash down, and corrosive material handling applications. Call us with your application need and we'll find and install the right pallet truck immediately.

Types of Used & New Pallet Trucks:
---
Electric Powered Pallet Trucks are equipped with AC drive motors, battery packs, and a regenerative braking system.
Hydraulic Powered Pallet Trucks feature a hydraulic pump for transporting and lowering heavy, awkward loads.
Low Lift Pallet Trucks can take a load and lift it clear off the floor for easy transportability.
High Lift Pallet Trucks are used for lifting pallets from the ground level to a comfortable working level.
All Terrain Pallet Trucks are designed for any kind of terrain.
Heavy Duty Pallet Trucks are designed for tough daily use of heavy load transporting.
Pallet Trucks With Scales are designed for weighing the load.