Used Pallet Racking Systems from
The Surplus Warehouse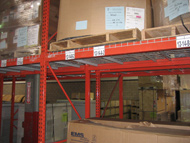 As a leading used pallet rack supplier, The Surplus Warehouse buys, sells, and trades warehouse and industrial pallet racking systems in all shapes, sizes, models, colors, and configurations. We purchase racks from companies and then resell or trade them to meet the storage requirements of companies in a variety of industries. We buy, sell, and trade different Styles of Pallet Racks as well as Types of Storage Racks such as pushback rack, selective pallet rack, pallet flow rack, drive-in pallet rack, drive-through pallet rack, cantilever rack, and reel racks. For detailed information on specific rack products, see our featured Brands of Pallet Rack.
Used Pallet Rack Applications
Like platforms, pallets are used for transporting or storing things. Warehouse and industrial pallet racking systems are typically used in industries such as factories, warehouses, retail, automotive, food storage, grains, chemicals, pharmaceuticals, and many more. Pallet racks refer to the metal structures/frames where pallets of products or materials are stored for a period of time, whereas pallet racking systems refer to the complete storage setup designed to improve the unique warehousing or distributing needs of your company's facility.
At The Surplus Warehouse, we know that every industrial application or warehouse space has different pallet racking requirements. For this reason, we create custom system designs based on user specifications. By studying the user requirements, the floor plan, and the kind of pallets to be accommodated, The Surplus Warehouse provides customers with effective and efficient storage solutions precisely developed for their application and facility. If you're interested in buying, selling, or trading used pallet racks, contact the leading used pallet rack supplier, The Surplus Warehouse.

Advantages of Used Pallet Racking Systems Include:
---