Used Industrial Storage Rack from
The Surplus Warehouse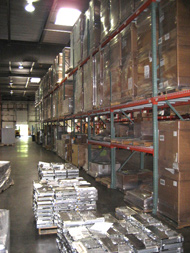 Today's competitive industries emphasize the need for reduced inventory, rapid throughput, and quick response to changing market conditions. To meet these needs, The Surplus Warehouse, Philadelphia's largest used and new material handling dealer, buys, sells, and trades used industrial storage rack systems that feature fast, easy access with efficient cube utilization for quick payback. Our used industrial storage racks are guaranteed to improve workflow effectiveness and productivity.
Industrial storage systems include pallet racking, steel or metal shelving, industrial bins, and other types of industrial storage equipment. Browse our site or call one of our helpful storage systems professionals to discuss your specific new or used industrial storage requirement. At The Surplus Warehouse, we know that storage is dynamic, not static. That's why we buy, sell, and trade only high quality storage systems that are cost-effective yet state-of-the-art solutions for today's industries. Whether for small or large parts and materials, tools, drawings, files, work-in-process or finished goods, our used industrial storage racks are designed for performance and delivered for efficiency. We buy, sell, and trade all major brands of industrial storage racks. Contact The Surplus Warehouse or click Type of Racks for a broader understanding of available industrial storage racks.
Industrial Storage Rack Applications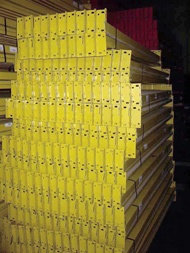 In general, industrial storage racks are suitable in a broad base of applications for any industry that requires holding materials over a period of time. Reasons for storing materials vary by application. Common reasons for storing materials may include: time bridging – which allows products to be available when needed, processing – which maintains products that that undergo change during storage, and securing – which keeps volatile or confidential products safe. Possibly the most common reason for storing materials is to allow other elements of production to operate more efficiently on a per-unit basis. Take advantage of quantity pricing and reduce the per-unit costs of shipping with used industrial storage racks from The Surplus Warehouse.

Advantages of Used Industrial Storage Racks Include:
---