Used Warehouse Storage Rack Systems from The Surplus Warehouse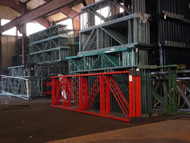 Need to store heavy, bulky product units in a limited warehouse space? Want to get rid of your warehouse rack systems before you relocate? The Surplus Warehouse, Philadelphia's leading material handling dealer, buys, sells, and trades used warehouse storage rack systems that meet and exceed your needs. Whether you need to store automotive bodies, carpets, furniture, cylinders, appliances, or tools, we can supply you with a complete used warehouse rack system that improves productivity and workflow efficiency. From complex warehouse material handling systems and pallet racks to simple warehouse racks and shelves, we have it in stock or have access to the proper storage technology that works best for your warehouse application.
For many industries, it is not unusual for oversized materials to not only account for 10 to 15% of a total company's product, but also represent 40 to 80% of the cube they actually ship. As a result, inventory and shipping costs force manufactures and distributors to find better, more cost-effective storage solutions. At The Surplus Warehouse, we offer the used and new material handling equipment that saves you money. For more information, visit Styles of Racks or call us directly at (215) 755-7000.
Identify Your Storage & Warehousing Needs
The first stage to realizing storage benefits is to identify your storage and warehousing needs. Analyze the items themselves and define the load. Both of these elements are the building blocks by which your warehouse storage system will be designed and installed. If item size, shape, and weight have not been determined and loads or quantities have not been defined, then the entire handling system could be incorrect, costing you both time and money.

Let Surplus Warehouse Provide You with a Warehouse Rack
System Solution
Warehousing is highly specialized and using the wrong storage racking system can be very dangerous. With all the different types and styles of racks it can be difficult to decide which one is best suited to meet the needs of your application. The Surplus Warehouse offers a huge selection of different types and styles of warehouse storage racks. Additionally, we feature automated conveyor systems, rack accessories, and more. We work with customers to help them identify their needs and develop a plan to implement a comprehensive solution. For all your storage and warehousing needs, rely on The Surplus Warehouse, Philadelphia's largest used and new material handling dealer.