Used Metal Shelving from
The Surplus Warehouse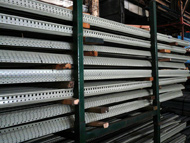 Philadelphia's leading used and new material handling dealer, The Surplus Warehouse, features used industrial metal shelving units to meet your warehousing needs. Previously thought of as too heavy, too expensive, or too limited in style, metal was frequently passed over for other materials. Due to advanced methods used to improve the look of metal and its weight, used metal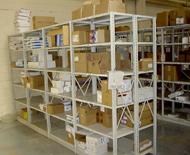 shelving units are rapidly becoming one of the most popular storage solutions.
Depending on your budget, the weight and size of the items you intend to store, and the physical layout of your warehouse, certain units will work better than others. The Surplus Warehouse features both used and new steel shelving and metal wire shelving. Call us directly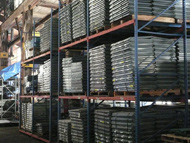 or read on for more information on these systems.
From used steel shelving to metal wire shelving, we outfit warehouses with the highest quality storage products and work within even the most demanding time constraints of our customers. In addition to selling and installing, we will buy and trade used and new metal shelving storage systems. The Surplus Warehouse prides itself on being able to meet all your needs regardless of application in order for you to meet the needs of your customers. Give us a call at (215) 755-7000, contact us at sales@surplusrack.com, or better yet, visit our facility to see what we have in stock. Please keep in mind that due to the nature of the used business, our inventory changes daily.

Used Steel Shelving
The Surplus Warehouse has a variety of both open and closed steel shelving. Compared to closed steel shelving, open steel shelving is more economical and offers greater accessibility. With the use of back and side braces, open steel shelving exhibits good stability by eliminating front, back, and lateral sway. Closed steel shelving tends to offer greater stability and protection of stored items by enclosing the back and sides of the unit. Closed steel shelving has a more finished look and can be enhanced with doors if necessary.
Used Metal Wire Shelving
Industrial metal wire shelving, also referred to as Metro Shelving, is an excellent choice for storage of smaller items or boxes, as it is durable, versatile, and easily adjustable. Due to its simplistic wire construction, metal wire shelving does not collect dust or block sprinkler systems. At The Surplus Warehouse, we have many depths, widths, and options available. Whether you need a starter unit, an adder unit, a mobile unit, or a fixed unit, we have precisely what you want in stock or have access to what you want for immediate delivery and installation.