Used Industrial Shelving from
The Surplus Warehouse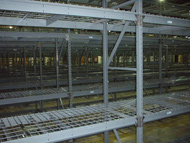 Organize the clutter in your warehouse with used industrial storage racking and shelving systems from The Surplus Warehouse. Or let us buy your existing equipment and we'll dismantle and remove the system quickly and efficiently. As Philadelphia's leading used and new material handling dealer, The Surplus Warehouse only buys, sells, and trades the highest quality used industrial shelving that is durable and versatile enough for even the most demanding storage needs. Call us at (215) 755-7000 or email us at sales@surplusrack.com.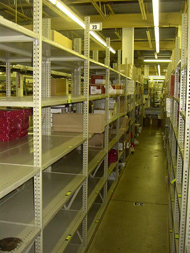 Industrial shelving is especially useful for warehouses where limited space is a problem. Industrial shelving is one type of storage that is available in a wide range of sizes, shapes, and configurations. The used industrial shelving we stock and have access to consists of many brand names and major product lines, as well as different colors, styles, and options. A few of our more popular industrial shelving options include wide span shelving, Metro-style wire shelving, bulk rack, and pallet rack. We also carry an assortment of industrial shelving accessories to fit your requirements.
Industrial steel and wire shelving systems can be adjusted to meet your needs and your budget. With so many options available it can be a challenge to decide which system will work best for your facility. To make this decision easier, simply follow the steps listed below:
Survey the available floor space of your working areas.
Choose an appropriate area that is easily accessible to the main receiving area.
Establish the size, shape, weight, height, and quantity of the materials you mean to store.
Ascertain the weight bearing capabilities of the storage system you are currently considering.
Compare and contrast available Types of Storage Rack and Brands of Pallet Rack.
Following these steps and investing in a used warehouse shelving system from The Surplus Warehouse will ensure that your storage system works to meet your immediate and long-term needs. We'll help you mix and match various types of industrial shelves and accessories such as bins, dividers, and drawers so you can see substantial savings in supply expenditures, quality control, and supply distribution. Contact The Surplus Warehouse today and discover how we can improve your operation tomorrow.

---